A lot of folks are quite crazy about Stella McCartney's clothes lately. While I wasn't enchanted with her earlier collections, I'm quite impressed with what she has been cooking up. Recently mere mortals have (or had, before they sold out) the opportunity to get the look without the sky-high prices with her H&M and Adidas collections. I love how the workout clothes look, and even the rock-climbing shoes look great. Even though they are only $20-30 more than others on the market, I have some doubts on their actual performance. If they ever go on sale, I'd totally considering buying a pair (the soles of mine are starting to get un-glued, so at least I've got an excuse =) ).
There are ways to get some genuine ready-to-wear-collection-quality stuff for less. So what if they are a season behind? With layering and so forth, it's easy to carry Spring/Summer pieces to the Fall, and even Winter. Come on, you know during the winter the indoors gets a little too warm at times. Under those circumstances, you can take off those sweaters and coats and show off your pretty clothes. Of course, being a part of a designer collection, things aren't going to be cheap. But the markdown is so significant that it's worth it if you need a piece or that stands out.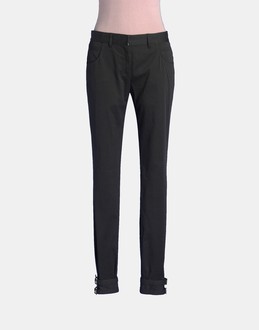 Yoox
is a good place for marked-down Stella McCartney pieces. If you're lucky, you just might find something your size. They have some skinny-legged pants which are all the rage now for $75 instead of $360. (See, "that's sooo last season" doesn't apply here). Some clothes look work-worthy while others are loose and casual. Arguably, $75 is a pretty good deal than something of an equivalent price at Express, which is not nearly as high-quality. Until I start making money, however, I'll stick to Ross and Smartbargains, but I'm definitely keeping this e-tailer in mind.
Scoop NYC is also a great source for Stella apparel. Too bad I didn't have time to write about this before it was gone, but they had some scrunched-up gray skinny-legged jeans for $108--at least 75% off. Skinny leg styles don't look good on me, but the updated versions can look good for the right person. When I was driving around town, I saw a girl crossing the street wearing those jeans. They actually looked pretty good on that girl, even though I wrote it off when I saw the picture. There isn't much stuff left on the site now except for overpriced casual tops, but I did find this camisole to be intriguing. At $159, it comes close to breaking the bank, but it doesn't bankrupt you like the $795 original price tag would. Only available in black and size 44, but it's really elegant. If you don't see anything you like now, check back once in a while.