I love the Macy's clearance section because of the big selection, but I love it even more when there's an extra 25% off. The shoe section is usually the first that I dash for. The downside is the shipping and tax...if you live in certain states like CA, you'll get docked for it. Unlike other sites with flat-rate shipping fees, Macy's pro-rate according to how much you buy. It's one of the few instances where buying less is better. Shipping is $4.95 for under $25, then $6.95 for $25-50, then $8.95 for another range. To maximize my savings, I try to limit myself to a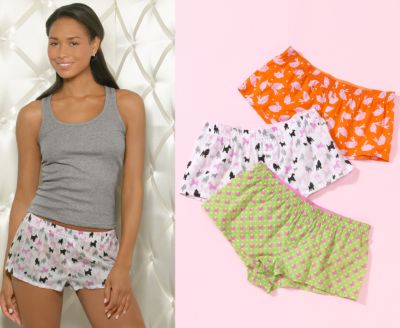 few items that are severely marked down. Good way to keep myself from spending too much.
I really like these cute little boxer shorts. They're great to lounge in, and I usually wear one underneath mini-skirts as a safeguard against accidental exposures. They offer better coverage and hey, even if you do walk over a vent, you can show off these cuties. The best part is that they're $5 each (instead of $14) and available in different sizes. Not quite rock-bottom prices, but they're still cheaper than boxers at American Eagle (even when on clearance) and at sample sales. I got a $5 pair from a Calvin Klein showroom--really cute, but there's a big fat "sample" stamp on the back.
Another pick is this sporty jacket. I definitely won't pay $50 for this, and I still won't pay $25. At $18, I probably would (but I won't because I already have another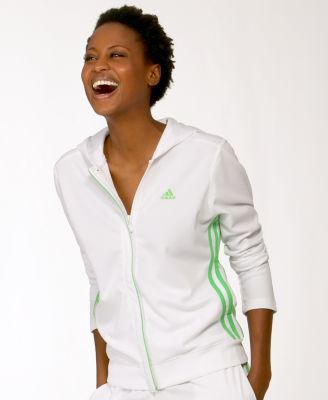 sporty jacket). This is pretty cool because they have 3 different colors AND different sizes. Usually you don't get that choice for closeouts. Yes, it's "clearance," but perfect for the Fall and goes with everything...
...which brings me to another "soapbox moment." When I shop, I don't believe in buying outfits. Even if the item you're coveting is "cheap," it'll be money wasted if you'll have to get something else to match. So keep a mental inventory of what's in your closet. If what you're looking at is a top, see if it'll either match with denim or black/gray/brown pants, since those are the most basic combinations. If not, and you don't have anything else that would match, it's time to move on.
Experimenting with clothes that you normally wouldn't try will open your eyes to a whole new fashion horizon, but online shopping is no place for it. Stick with safe stuff that you know you'll wear for the next few years.